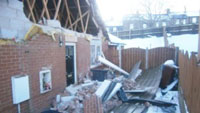 Burngreave Building Co Ltd are partner to a major insurance company, carrying out a total refurbishment, maintenance and services solution – providing a structured facility that meets and exceeds expectations.
Burngreave Building Co Ltd is entrusted with the Home owners most valued possession, their home. We provide a whole range of building works, ranging from emergency repairs, day to day maintenance to complete household refurbishment.
With dedicated teams in and around Sheffield and South Yorkshire, Burngreave Building Co Ltd can help you meet your targets efficiently and on budget. Our team strives to ensure close communication and cooperation, as by working closely with our clients we can make sure that every one of your expectations and requirements are fulfilled.
As a local Sheffield builders and building company, we are typically very traditional and draw on the local talent and suppliers within South Yorkshire to complete our projects. This approach ensures that our local community benefits from your activity.
We strive to minimalise any negative impact to the environment with our works and take responsibility for managing our building projects in Sheffield and South Yorkshire.